Directory Theme for WordPress
Directory by Templatic is no doubt one of the best and most cutting-edge directory themes ever build and present today. The Directory has all the features that you will possibly need in your online directory along with some additional features that you may not even need.
If you want to not only create but run successful online business that helps you earn more, Directory is the best solution for you. So let us take a closer look at what Directory has to offer.
What makes 'Directory' Different?
"Easy Installation" feature, that lets you install the demo data with one click.
Easy to follow installation guide and Video.
Its targeted application
How to Install the Directory Theme:
You can install the Directory with Traditional installation or with Easy Installation. You can check out the awesome Installation Video or the Detailed Installation Guide. Since everybody likes to save time, I am going to walk you through the Easy Installation Process.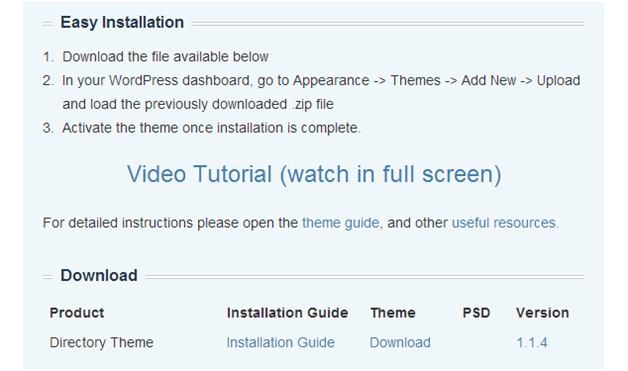 If you are following the easy Installation process, you need to download the file from your Templatic account Dashboard. Once downloaded all you need to do is navigate to WordPress Dashboard > Appearance > Themes > Add New > Upload Theme and upload the templatic.zip file. You will be asked for License Key to Activate the Tevolution Plugin, you copy it from your Templatic account Dashboard and your Templatic Directory Theme is activated.
 The Tevolution control panel is most impressive – loaded with a plethora of options.
Demo Data:
Normally all the paid WordPress theme comes with a demo data file so that the users can get themselves acquainted with the theme's features. Templatic is no exception. Usually you have to go to WP Dashboard > Tools > Import, upload the XML file, and after a couple of settings, the demo data gets populated. In some cases, it doesn't work – maybe because the host had removed the demo images or an XML configuration error.
However with Templatic, if you want to install the demo data to your site; all you have to do it go to Tevolution and click on the option Install Sample Data.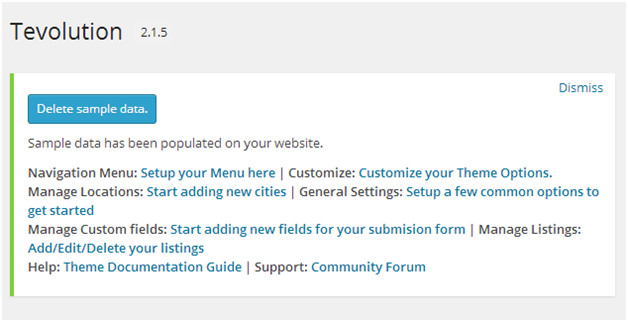 Once the demo data has been uploaded, you can easily find your way around the theme's features.
 Location and Map Settings:
These settings enable you to add/remove countries, states and cities from your directory. You can then filter the results based on your predefined criteria. The City Logs shows the number of page views of each city, including the page views of a listing in that city. Thus, you can sort out the most popular cities.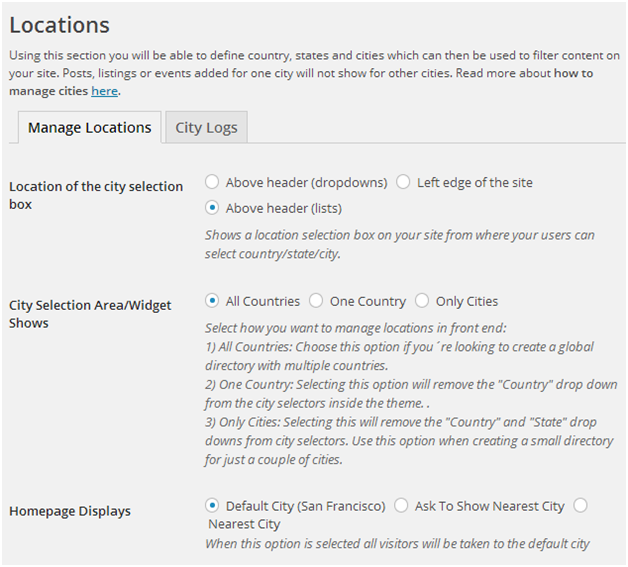 Setting your default city can be done quickly from Tevolution > Manage Locations.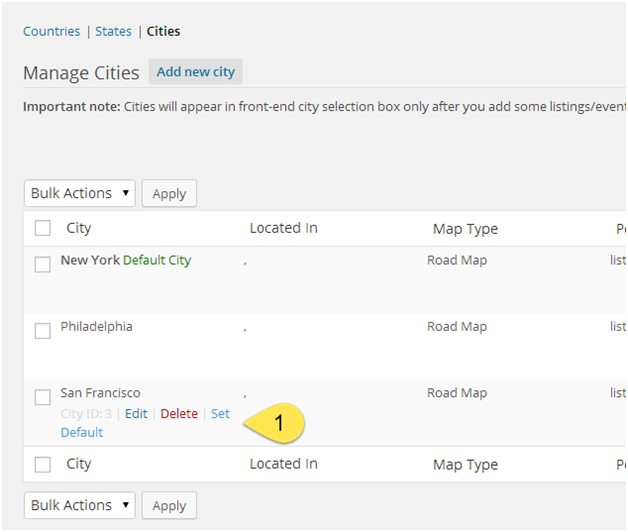 The Map settings let you to modify the map display of any city, with factors like scaling factor, map type and view size.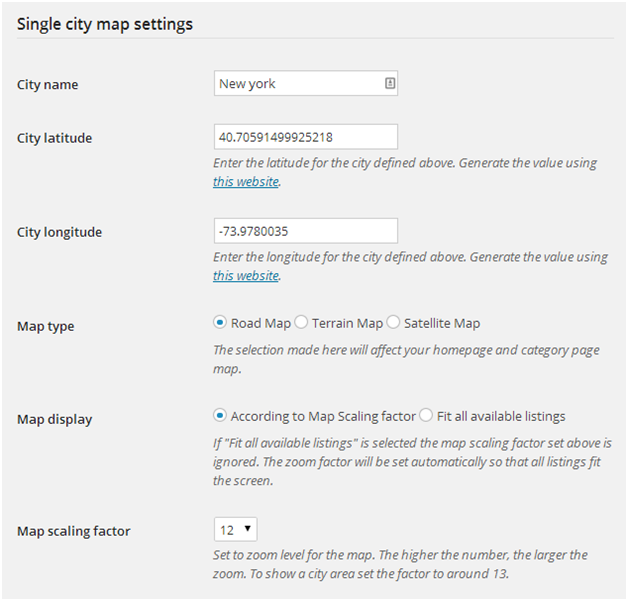 Managing Content in the Directory theme:
You can create and manage listings from WP Dashboard > Listings. Creating a new listing is just as easy. Just go to WP Dashboard > Listing > Add Listing. Since this is a custom post type, you'll have a lot of new options to set in order to reflect the most accurate information.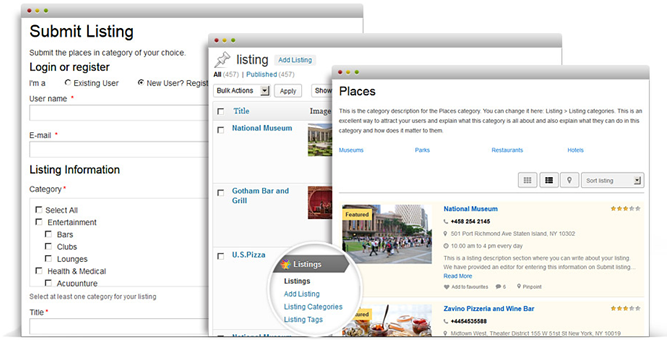 Almost all the themes will allow you to modify and publish content, but not many give visitors the same opportunity. Templatic lets you to do just that. You can create submission pages for visitors so they can post content on the site. The users can submit the content with the help of registration form.  You can also edit fields of the registration forms if you want to capture unique information from your visitors.
These listings need to be approved by the administrator before they appear live on the public site so you can easily control all the content on your website. The visitors can rate and review the posts on your site.

Email Settings:
Another interesting feature of Directory is Email settings options. This page gives you many customization options. You can email when certain actions are completed, like successful post submission, payment confirmation, Listing expiration, Listing renewal. You can easily customize the email and body text every time you have to send these emails.
Monetization:
Directory with its Monetization option, offers you numerous ways to earn money from your online directory.
You can charge for the submissions, it can be per post or per subscription. You can charge for featured post, membership packages, Set category prices, for additional fields and of course for showing ad banners.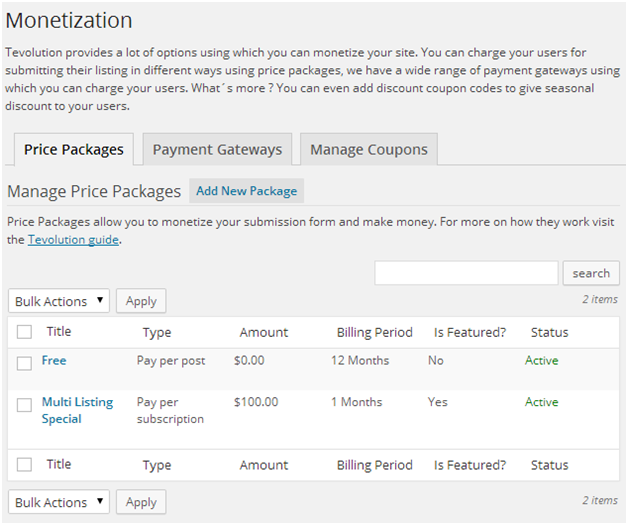 You can create coupons as well! The following picture shows the various options available when creating a new coupon. You can set coupon validity duration and discount type – either percentage or amount.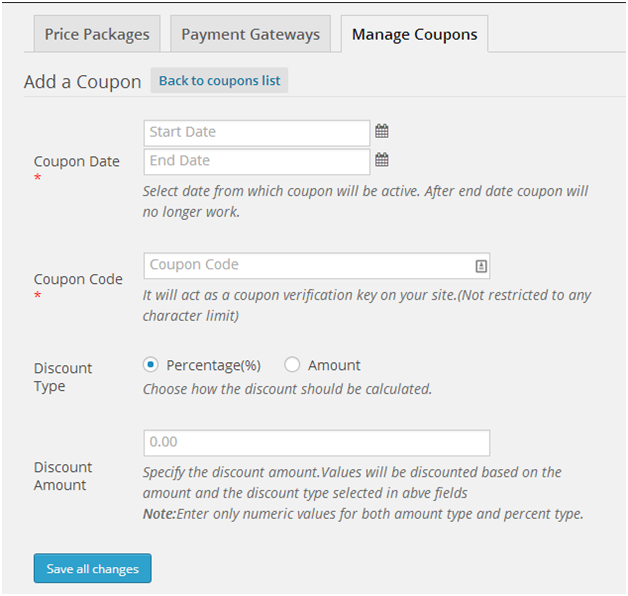 Directory comes with preinstalled PayPal and PreBank transfer methods. You can add many other paid add ones like PayPal Pro, Stripe, Google Wallet, 2Checkout, eWay, WorldPay, Authorize.net, PayFast, and PSiGate.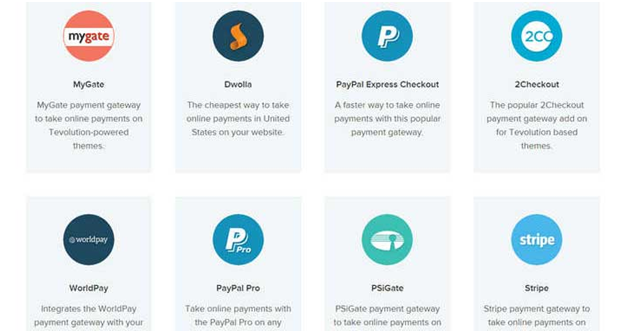 Theme License:
Standard License: $99
This license allows you to use a theme on a single website.
Developer License: $199
This license allows you to use a theme on multiple websites.
Club membership: $299 for first month and then $19/month thereafter
With this license you can get access to all Templatic themes and plugins.
While the price of the theme might look a little more when compared to other WordPress themes, but the fact that this is an app theme which provides more than just a visual template for your site with amazing functionality to transform how the site can be used easily makes up for it.
Conclusion:
The Directory theme is very powerful and is a professional solution for building a directory website. It is feature packed. It may take some time for you to get grip of all the features but the results are worth it.
Overall Directory is a really impressive tool for transforming WordPress into a directory site.
If you need any further help while setting up this theme, do not hesitate to get back!